Hotels in Malaysia  

Discover the magic of the Malaysia
One of Asia's most popular tourist destinations, Malaysia is a dynamic, diverse country where soaring skyscrapers contrast with ancient rainforests, and where cultural discoveries await around every corner. The country is also home to some of Southeast Asia's most stunning scenery; from the high-rise skyline of Kuala Lumpur to idyllic islands like Langkawi and Penang, and the jungles of Sabah and Sarawak, every visitor can find their own slice of paradise. Select a destination below to find a hotel near where you want to stay.
Wherever Life Takes You, Best Western Is There.®
Hotels in Shah Alam
A modern city in Malaysia's Klang Valley, Shah Alam is a well-connected high-tech hub that reflects the country's rapid development. While it is the capital of Selangor, Malaysia's most populous state, Shah Alam is more than just an administrative center. Easily accessible via multiple highways linking it with Kuala Lumpur and the area's international airports, the city is a pleasant, clean and engaging destination that provides an array of attractions for local and international visitors.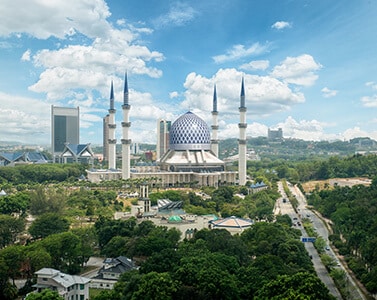 Current Location
Recent Searches
No places found for the term
Click or press the down arrow to select a date
This rate is available to Rewards members who have earned enough points to redeem (Maximum occupancy of 2 adults not including children.)
Destination has Changed
You will be redirected to the Hotel Search Results page.
Explore Nearby Destinations