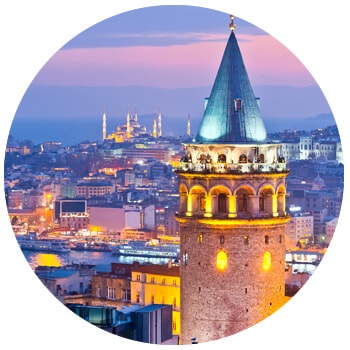 Discover Türkiye
From the ancient port city of Ephesus (Efes) to the soaring Byzantine dome of Aya Sofya, Türkiye has more than its fair share of world-famous ruins and monuments. A succession of historical figures and empires – including the Romans, Byzantines and Ottomans – have all left their mark on this former stopover along the Silk Road. Experiencing their legacy takes you from the closeted quarters of the sultan and his harem in İstanbul's sprawling Topkapı Palace to the romantic and mysterious Lycian ruins on Mediterranean beaches. Explore Türkiye holidays and discover the best time and places to visit. A richly historical land with some of the best cuisine you will ever taste, scenery from beaches to mountains and the great city of İstanbul.

Explore Nearby Destinations
Current Location
Recent Searches
No places found for the term
Click or press the down arrow to select a date
This rate is available to Rewards members who have earned enough points to redeem (Maximum occupancy of 2 adults not including children.)
Destination has Changed
You will be redirected to the Hotel Search Results page.
---