Minneapolis-St. Paul Area
Top Things to Do in the Twin Cities of Minnesota
---
Feed your intellectual curiosity at the Science Museum of Minnesota. Indulge your appreciation for aesthetics at the Walker Art Center for the Minneapolis Sculpture Garden. Take a slight detour from the Twin Cities and experience the Mall of America in Bloomington.

Treat the kids to a day at the Water Park of America where they can experience the wonders of indoor surfing. Become one with nature by basking in 344 acres of water at Lake Harriet or the 11,000-acre Minnesota Valley National Wildlife Refuge. The eateries and shopping in Minneapolis and St. Paul are unbeatable.

Sports fans have plenty to keep them entertained too. Whether at a Twins game in the summer, a Vikings game in the fall, or a Wild or Timberwolves game in the winter, anyone looking for professional-quality competition with a college sports scene won't find a better fit than the Twin Cities.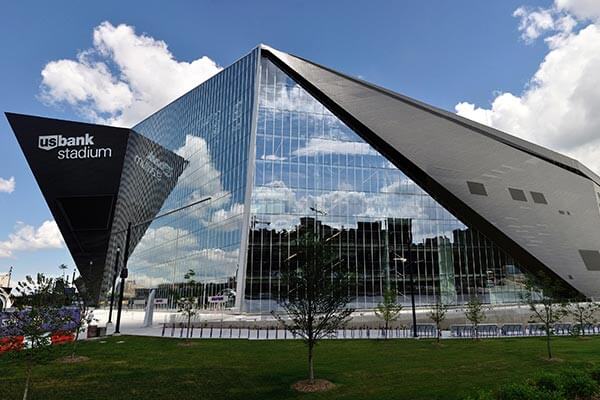 See a Vikings game in the fall at US Bank Stadium
Current Location
Recent Searches
No places found for the term
Click or press the down arrow to select a date
Best Western Reward Points

This rate is available to Best Western Rewards members who have earned enough points to redeem (Maximum occupancy of 2 adults not including children.)
Destination has Changed
You will be redirected to the Hotel Search Results page.
Find Your Farm in St. Paul
There are plenty of farms for you to check out when you're in the Twin Cities.

Explore Gilbertson Farms, Fossum Family Farm, Down on the Farm, and the Afton Apple Orchard. Cross an item off your bucket list by petting an alpaca at Wild River Ranch Alpacas, Sunrise River Alpacas, and Soulfood Alpaca Garden.
St. Paul's Quirky Attractions
St. Paul doesn't disappoint when it comes to its oddities. Check out the roadside attractions when you're in the area like the giant deck chair most commonly known as the Adirondack Chair offering dramatic views of the scenery.

Carve out time to check out the massive 44-foot snowman and snap a selfie in front of the 8-foot revolver for a true cowboy memory.
National Parks and Outdoor Recreation
There are ample parks and recreation areas for you to soak up when you're in the Twin Cities.

Venture out to the Mississippi National River and Recreation Area. See a mass of land abundant in cultural, scientific, and economic resources, as well as the only national park dedicated exclusively to the Mississippi River.
Hit the Links of St. Paul
Golfers out there have 65 public courses to choose from that are within 20 miles of downtown Minneapolis. Whether you're a golf pro or a newbie, you'll appreciate The Links at Northfolk. Expect a classic Scottish Links-style golf course with immaculate greenery all around. Here is where the Annual British Open is held.

Tee off at Prestwick Golf Club while taking in the lush landscapes, colorful flowers, and top-notch playing conditions.
---
Discover Best Western Hotels in Minnesota
---
With 30 Best Western locations in Minnesota ~ you're bound to find something new where you're headed.