Find Hotels In The Texas Panhandle Region
Current Location
Recent Searches
No places found for the term
Click or press the down arrow to select a date
This rate is available to Rewards members who have earned enough points to redeem (Maximum occupancy of 2 adults not including children.)
Destination has Changed
You will be redirected to the Hotel Search Results page.
---
Amarillo, Lubbock & the Panhandle
Wide Open Skies & Roads
---
Texas Panhandle communities like Amarillo, Lubbock, and Wichita Falls present plenty of personality while preserving heritage, culture, and spirit of the Old West. Attractions like Cadillac Ranch and the American Quarter Horse Hall of Fame & Museum make it a must-stop for road tripping families. 
From Amarillo to Lubbock to Abilene, visitors won't have any trouble finding plenty to see and do, as special events, festivals, and family-friendly activities line local event calendars.
Chet's Picks in the Texas Panhandle

Explore the wide expanses of the Panhandle to find rugged adventures mixed with natural beauty. While you're in this region, don't miss my top picks below.

Anytime's a fine time to get out on the green, and the Panhandle promises plenty of top-flight golf courses. Golfers in Hereford and Canyon can see why John Pitman Municipal Golf Course was named one of Golf Digest's "Places to Play." Over in Amarillo, the Comanche Trail Golf Course is the go-to choice for players of all skill levels. And to the south in Lubbock, The Rawls Golf Course draws people from Levelland and beyond.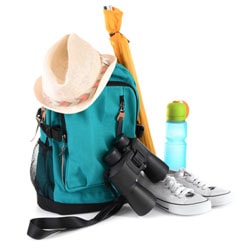 Get Outdoors
Abilene features a whopping 1,200-acres of parkland, pieced out into 29 different and beautiful parks – including Vera Hall Minter Park and Play Faire Park.
If you're into family outings under the sun, the Abilene Zoological Gardens – featuring 500 animals over 13-acres ­– is the ideal spot. Be sure to visit the Giraffe Habitat, where you can hand-feed the giraffes from a high bridge in the middle of the Abilene Zoo. Take home your own plush long-necked friend from the Adventure Center and gift shop.
You can also get crazy at the 25,000-acre Franklin Mountains State Park – an aerial view of which you can see from the Wyler Aerial Tramway.

Check out art like no other
The arts are alive in Amarillo and one need not look further than Cadillac Ranch for proof. An iconic example of both Texas and Route 66 culture, Cadillac Ranch is a group of 10 Cadillacs dating from 1948 to 1963, each uniquely decorated and buried in a row halfway into the ground like some sort of strange steel Stonehenge. Bring a spray can of your own – visitors are encouraged to add their own touch.

Get some thrills
Spring and summer visitors to Amarillo are in for excitement when they dare enter Wonderland Park. Located within Thompson Memorial Park, the destination features gut checking coasters like Texas Tornado and Shoot the Chute, as well as a mini-golf course, arcade games, and a ton of other attractions. If the Panhandle's temperamental weather takes a turn for high temperatures, hop into Splash Amarillo Waterpark, a wet and wild wonderland just a half-mile from the Big Texan Steak Ranch.


Sneak in a round
In Amarillo, golfers of all skill levels hit the links at Comanche Trail Golf Course. The facility's 18-hole Tomahawk Course offers players a full-length driving range and championship-style play. There are even two large practice greens for your putting game.

History Lessons
The Panhandle–Plains Historical Museum is a comprehensive look at the history of the Texas Panhandle region, complete with traveling and permanent exhibits like "Pioneer Town", which depicts life in a small, early-1900s settlement. Set just south of Amarillo in Canyon, the museum is part of the West Texas A&M University campus.

From A - Z
---
Whether you're looking for Abeline to Zapata, you'll find a wide range of excellent hotels to have the time of your life. Look for more travel information in the Best Western City Guides. With 188 Best Western cities in Texas - you're bound to find something new where you're headed.