Discover 24 Hotels in the Texas Gulf Coast
Current Location
Recent Searches
No places found for the term
Click or press the down arrow to select a date
This rate is available to Rewards members who have earned enough points to redeem (Maximum occupancy of 2 adults not including children.)
Destination has Changed
You will be redirected to the Hotel Search Results page.
---
Texas Gulf Coast
Made to Thrill
---
Plan your next visit to the Texas Gulf Coast for an unmatched and unforgettable experience. Enjoy stunning ocean views in cities like Corpus Christi and Galveston, and be sure to visit any and all of the very best attractions found in this region. On top of that all, there'll be a very impressive slate of events, festivals, and concerts ready for you when you visit the Texas Gulf Coast.

Chet's Picks in Texas Gulf Coast

Make a splash on the Texas coast with these fun spots. Whether you're a water adventurer or a nature junkie, this region's got something for you! 

Be sure to visit Port Aransas with Ingleside and Portland. Along with its small town charms and welcoming locals, Port Aransas will entertain you and the group with some excellent, must-visit attractions. Don't miss the Coast Guard Station Port Aransas, even if it's just to snap a few pictures, and the Mustang Island State Park will yield full days of outdoor adventures. 
Corpus Christi should certainly be on your list of must-visit cities along the Texas coast. You can explore the Padre Island National Seashore, play a round of 18 at the Oso Beach Golf Course, or treat the kids to a fun day at the Texas State Aquarium.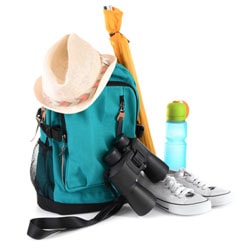 Get Outdoors
Known as "The Blue Ghost," the USS Lexington is a must-see for newcomers to Corpus Christi. A WWII-era battleship, the Lexington has since become a full-fledged museum set in Corpus Christi Bay.
Just minutes from there, the Mirador de la Flor monument, or "Lookout of the Flower," draws tens of thousands of visitors each year. The statue pays tribute to the late singer, Selena Perez, who was a Corpus Christi native.
After the sun goes down, the Corpus Christi Harbor Bridge lights up – be sure to witness as the bridge is illuminated in a dazzling array of colors, reflecting beautifully off of the bay waters.
Hit the beach
When you're on the coast, you have to hit the beach. Luckily for you, Corpus Christi visitor, there are plenty of beaches along the Gulf Coast, and quite a handful in Corpus Christi and surrounding cities.
On Padre Island, Malaquite Beach is an absolute gem. More centrally located, North Beach runs adjacent to the harbor bay bridge, and is minutes from nearby attractions like the Texas State Aquarium.
Golf by the Gulf
There's really nothing quite like golfing on the beach. So if golf is your game, be sure to hit the links at Oso Beach Golf Course; a stunning course that, depending on your drive game, is just a strong swing away from the waters of Oso Bay.

Get Cultured
It's not all beaches and scenic sites in C.C. – the Art Center of Corpus Christi is a must-visit for fans of art, culture, and fine dining. Overlooking the bay (that's becoming a theme here), the center features seven galleries, local artists' studios, and an on-site restaurant. 

From A - Z
---
Whether you're looking for Abeline to Zapata, you'll find a wide range of excellent hotels to have the time of your life. Look for more travel information in the Best Western City Guides. With 188 Best Western cities in Texas - you're bound to find something new where you're headed.