Discover 230 Hotels in Texas
Current Location
Recent Searches
No places found for the term
Click or press the down arrow to select a date
This rate is available to Rewards members who have earned enough points to redeem (Maximum occupancy of 2 adults not including children.)
Destination has Changed
You will be redirected to the Hotel Search Results page.
Texas Road Trips & Tours
Hit the Road
---
Texas has roadside attractions and stops that will drop your jaw, blow your mind, and everything else in between. Hit the road and see the Gulf Coast or Hill Country this summer, have a crisp adventure in the Panhandle this winter, and just plain enjoy yourself anywhere in between. Plan your visit to Texas today and check out these trips, tours, and sites.
The Mother Road in the Panhandle
---
Historic Route 66's run through the Texas Panhandle is a quick one, but this being Texas, the attractions along the way are big and memorable. We'll take you on a tour of the many attractions found along the Lone Star's State's stretch of the Mother Road, including steaks, bugs, and Cadillacs.

Wild West
---
If you start right on the western border, you'll be in Glenrio, known as a ghost town and home to the 32-acre Glenrio Historic District – found on the National Register of Historic Places. When you stop by the Glenrio Welcome Center, you'll find a movie theater, information on Route 66, and probably learn parts of the 1940 film The Grapes of Wrath was filmed here.
Check out the rest of the cities you'll drive through along our Route 66 Driving Tour.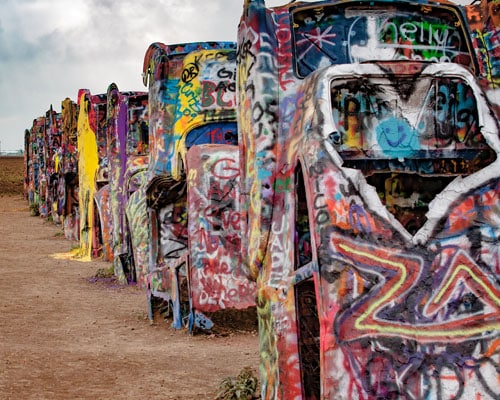 Cadillac Ranch
---
When you're staying in Amarillo, be sure to get out and explore the area. One of the top sites to visit in the Panhandle, and easily accessed from Interstate 27, is Cadillac Ranch. You'll see 10 unique Cadillac cars half-buried in the ground – and each one artfully painted and decorated by visitors who've toured the site before.

Mackenzie Park
---
Make your way into Lubbock and check out Mackenzie Park. Found just north of downtown, Mackenzie Park is a 248-acres sterling example of outdoor fun in Texas. It's home to the Meadowbrook Golf Course, and the American Windmill Museum.
Want more roadside attractions? See a list of our top sites to checkout.