Hotels in Malaysia  

Discover the magic of the Malaysia
One of Asia's most popular tourist destinations, Malaysia is a dynamic, diverse country where soaring skyscrapers contrast with ancient rainforests, and where cultural discoveries lie around every corner.
An Asian "tiger economy" of the 1990s, Malaysia has developed rapidly to become a modern and prosperous nation, symbolized by the soaring Petronas Towers which were the tallest buildings in the world when they were completed in 1998. Today, these stunning skyscrapers, connected by a dramatic skybridge, remain a proud icon of Malaysia.
The Petronas Towers rise from the heart of Kuala Lumpur's modern downtown district, giving Malaysia's largest city one of the most recognizable skylines in the world. But KL offers far more than just high-rise towers; the city is a vibrant commercial hub and a melting pot of cultures. The bustling markets and shophouses of Chinatown and Little India provide a wonderful alternative to KL's high-end shopping malls, while the vibrant Golden Triangle area buzzes with activity at all times of day and night.
Surrounding KL, Malaysia's thriving Klang Valley is one of Southeast Asia's most dynamic economic zones. Served by the award-winning Kuala Lumpur International Airport (KLIA) and the new low-cost terminal KLIA2, emerging satellite cities such as Petaling Jaya and Shah Alam are attracting rising numbers of business and leisure travelers, while Putrajaya, Malaysia's administrative capital, is a charming example of a modern planned city, set around lakes and gardens.
Malaysia is also home to some of Southeast Asia's most stunning natural landscapes. From idyllic islands like Langkawi and Penang to the jungles of Sabah and Sarawak, visitors will be able to find their own slice of paradise. Meanwhile, the twin UNESCO World Heritage-listed port cities of Melaka and Georgetown reveal Malaysia's rich colonial heritage.
Best Western provides a collection of modern hotels in Malaysia.
Wherever life takes you, Best Western is there.®
Hotels in Shah Alam
A modern city in Malaysia's Klang Valley, Shah Alam is a well-connected high-tech hub that reflects the country's rapid development. While it is the capital of Selangor, Malaysia's most populous state, Shah Alam is more than just an administrative center. Easily accessible via multiple highways linking it with Kuala Lumpur and the area's international airports, the city is a pleasant, clean and engaging destination that provides an array of attractions for local and international visitors.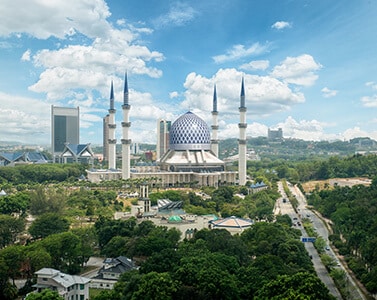 Explore Nearby Destinations

Current Location
Recent Searches
No places found for the term
Click or press the down arrow to select a date
This rate is available to Rewards members who have earned enough points to redeem (Maximum occupancy of 2 adults not including children.)
Destination has Changed
You will be redirected to the Hotel Search Results page.
---