A Quality Stay at an Affordable Price.
Great value with quality extras. Whether for leisure or business, SureStay® Plus Hotels by Best Western is the perfect choice for those who like to travel simply and casually. Find the amenities and service you expect at SureStay Plus.
Modern conveniences, cozy comforts and a warm welcome.
And with extras* like free hot breakfast and free Wi-Fi, you can expect modern convenience, high standards and of course, a very warm welcome.
Free Wi-Fi
Hot breakfast
Pool
Fitness center
Earn and redeem Best Western Rewards® points
*Amenities and services may vary at individual hotels worldwide. Please check individual hotel listings for a complete list of amenities and services.
---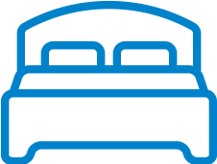 ---
*Operates as Sure Plus Hotels in selected countries 
Discover locations around the world
Current Location
Recent Searches
No places found for the term
Click or press the down arrow to select a date
This rate is available to Rewards members who have earned enough points to redeem (Maximum occupancy of 2 adults not including children.)
Destination has Changed
You will be redirected to the Hotel Search Results page.