Everything you need, nothing you don't want. SureStay® Hotels by Best Western welcome those who like to travel simply and casually. Delivering the value and comfort today's traveler expects, SureStay Hotels offer the necessities for a good night's stay.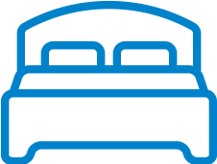 ---
Reliable. Respectful. Focused on making every guest feel appreciated.
Free Wi-Fi  ·  Continental breakfast 
Earn and redeem Best Western Rewards® points
*Amenities and services may vary at individual hotels worldwide. Please check individual hotel listings for a complete list of amenities and services.

*Operates as Sure Hotels in selected countries 
---
Discover locations around the world
Current Location
Recent Searches
No places found for the term
Click or press the down arrow to select a date
This rate is available to Rewards members who have earned enough points to redeem (Maximum occupancy of 2 adults not including children.)
Destination has Changed
You will be redirected to the Hotel Search Results page.
---